Bankruptcy comes at a tumultuous time for office real estate markets, but experts expect the overall impact will be fleeting
Article content
The bankruptcy of office-sharing giant WeWork Inc. is casting another shadow over Canada's beleaguered commercial real estate market, but industry watchers expect the overall impact will be fleeting.
Founded in 2010 and once valued at US$417 billion, WeWork revealed on Nov. 6 that it has begun a substantial restructuring process, including a Chapter 11 bankruptcy filing in the U.S. and plans for recognition proceedings in Canada.
Article content
The company said in a release that it had support from key stakeholders for a restructuring that would "drastically reduce its existing funded debt" and enhance its financial stability.
WeWork chief executive David Tolley told the Associated Press in a statement that under the new agreement, approximately US$3 billion of the company's debt is expected to be eliminated. The company's bankruptcy filings indicated it had liabilities of US$18.65 billion and assets of US$15.06 billion as of June. Lease liabilities, representing approximately two-thirds of WeWork's operating expenses, remain the company's principal financial obstacle.
The bankruptcy comes at a tumultuous time for office real estate markets, which have seen vacancies surge in the wake of the pandemic, as work-from-home and hybrid work arrangements have become entrenched.
Downtown Toronto's total office vacancy rate hit 15 per cent in the third quarter of 2023, according to real estate and investment management firm Jones Lang LaSalle Inc. Prior to the pandemic, in the third quarter of 2019, that figure was two per cent.
Article content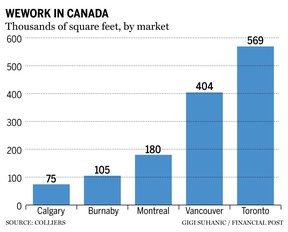 As part of WeWork's restructuring, the company said it is looking to abandon 69 leases, including two in Toronto, two in Vancouver and one in Burnaby, B.C. Forty of the leases it is seeking to terminate are located in New York. The company said all members impacted by the changes were notified in advance of the U.S. bankruptcy filing.
According to a report by commercial real estate services and investment company CBRE, WeWork expanded rapidly in Toronto after launching its first site in 2017. Within two years it had a dozen locations encompassing 657,000 square feet, a six-fold increase.
Then in 2020, it unveiled its largest Toronto branch, occupying two floors at the Hudson's Bay Co. building at Yonge and Queen, opposite the Eaton Centre, following a $1 billion deal with HBC.
Tobin Davis, vice chairman sales representative at Colliers Canada noted that while lease liabilities pose a significant challenge for WeWork, any vacancies resulting from their exit will represent a minor fraction of the Canadian market.
"Co-working space only represents 1.1 per cent of the overall national inventory of office space," Davis said. "The reality is we're only talking about one player right? There's still (roughly) 6.6 million square feet of co-working space on its own. The overall health of co-working space still remains strong."
Article content
According to Colliers, WeWork only makes up approximately 0.5 per cent of the total office space in Toronto.
Davis believes that despite the bankruptcy, most of WeWork's spaces will remain co-working locations, with landlords deciding on new operators going forward.
"The majority of the space will still probably remain as co-working space. (WeWork's) business model failed. I think they were just so focused on taking large leases in urban markets in times of higher real estate costs and it caught up to them."
Related Stories
Downtown survived the 1980s — and it will survive the 2020s

Hines thinks the office needs to be more than just a place to work

Commercial real estate lending bigger risk than previously thought
In 2020, The Greater Toronto Area (GTA) had approximately 3.14 million square feet of shared workspace, accounting for 1.8 per cent of its total office space. In the downtown core, shared workspaces encompassed 2.32 million square feet, making up 2.4 per cent of the area's office inventory. Nationally, Canada's market for shared workspaces was approximately 6.1 million square feet.
A press release on the WeWork website states that while the company has not yet commenced legal proceedings in Canadian courts, it plans to file for recognition proceedings under Part IV of the Companies' Creditors Arrangement Act.
• Email: [email protected]

Bookmark our website and support our journalism: Don't miss the business news you need to know — add financialpost.com to your bookmarks and sign up for our newsletters here.