'For us, it meant designing and building our own project to reflect the future of design and the compass we wanted to direct our practice to'
Reviews and recommendations are unbiased and products are independently selected. Postmedia may earn an affiliate commission from purchases made through links on this page.
Article content
Cedric Burgers is principal architect at Vancouver-based Burgers Architecture. Postmedia sat down with Burgers to hear about the home he recently completed in West Vancouver, where he now lives with his family.
Building their own home
Article content
The Burgers' house is positioned at the end of a small, private cul-de-sac, aligned with McDonald Creek in West Vancouver.
Article content
"We started this endeavour in 2015, after taking the Passive House Canada course, and the year our second daughter was born," says Burgers. "We knew that to fully embrace this method of architecture, we would have to go deep. For us, it meant designing and building our own project to reflect the future of design and the compass we wanted to direct our practice to."
The home achieved a Step 5 in the B.C. Step Code, which means it produces as much energy as it uses (net-zero energy). They achieved this through design elements like thick walls, outsulation (like insulation but for the home's exterior) and triple-pane glass. They also used non-combustible cladding materials, like stone and metal roofing, to mitigate damage from forest fires.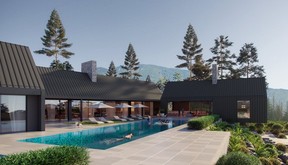 Their property is bordered on two sides by mature conifer trees, so it feels like you're in a forest clearing, says Burgers. "Building within a natural superstar like this pushes us to be both guardians of our environment and future thinkers as we build technology-driven, contemporary homes with as few physical barriers between architecture and nature in the architectural expression."
Article content
One project they're very excited about is a Passiv Haus-certified winery in Abbotsford, which will produce Gruner Veltliner and Rieslings. These varietals do well in colder climates with richer soils.
Because Abbotsford is close to Vancouver, this winery is being designed as a day-trip destination for Vancouverites. "A flagship for this budding wine-growing region," he says.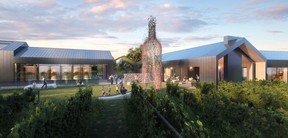 Experts in high-performance buildings
Last month, Burgers spoke on a panel at the Interior Design Show (IDS) Vancouver — with Azure magazine's senior editor, Stefan Novakovic and Ellie Niakin of Canadian lighting design company Introba — about passive house and high-performance building design.
They discussed low carbon, high-performance architecture and design practices that integrate a holistic approach to design excellence, says Burgers.
"Focusing on several benefits for the environment, economy and occupant health, this approach to design helps create healthy and sustainable built environments for homeowners and communities."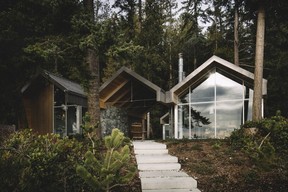 Burgers adds that through this integrated and interactive decision-making process, project members from all fields working on a project — architectural, interior design, electrical, mechanical and civil — can create beneficial synergies to create spectacular and liveable architecture and interiors.
Article content
When he reflects on 2023, Burgers says he's most proud of his forward-thinking team. Everyone in his firm brings their "A-game" to the table and constantly innovates and extends their boundaries with new ideas and honest feedback.
"The technical knowledge is there, but it's their deep understanding of how a project can uplift and inspire that motivates me too," says Burgers.
They're also lucky to work with clients who are no longer satisfied living in environments that are just esthetically pleasing. They come well-researched, know what they like and don't like, and are smart and open-minded, he adds.
Burgers says they're excited about their "Passive House Model" and being able to use this knowledge for future projects. "Our goal as a firm is to keep the conversation going and the solutions coming."
Related Stories
Inside a Lynn Valley home designed for better work-life balance

Classic 1970s post-and-beam home revitalized for ultimate indoor-outdoor living