Commercial real estate investment drops 27%
Article content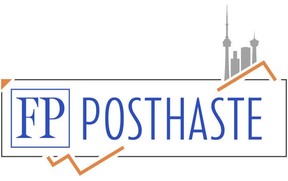 Article content
Good morning, 
Real estate investors are drawing back from Canada's biggest city as high interest rates, construction costs and remote work take a deeper toll.
Commercial real estate investment in the Greater Toronto Area dropped 27 per cent in the second quarter of this year, down more than $2.5 billion from the year before, according to the latest report from CRE intelligence firm Altus Group. 
Article content
Not surprisingly, office investment was the hardest hit, falling 61 per cent to $414 million from $1.07 billion in the second quarter of last year.
The plight of office real estate since the pandemic is well known. In a recent report McKinsey Global Institute predicted that remote work could wipe US$800 billion from the value of office buildings in the world's major cities.
Globally office attendance still is 30 per cent lower than what it was before the pandemic and McKinsey expects demand for office space to sink 13 per cent by the end of the decade. 
The return-to-office has also stalled in Canada, said Altus. 
 The national office availability rate climbed to 18 per cent in the second quarter and hit 18.5 per cent in the GTA, the third highest in Canada after Calgary and Edmonton. 
Sublet space rose to almost 25 per cent of the total available office space, up four per cent from the year before.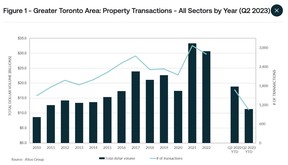 But interest rate hikes by the Bank of Canada, a shortage of skilled labour and rising construction costs are also taking a toll on residential investment, which fell 44 per cent from the year before. 
Article content
"However, investors are optimistic as the constrained supply of rental housing and the high cost of housing in the market supports asset fundamentals," Altus said.  
The only sector that's growing is industrial, where investment rose 36 per cent from last year to $3.39 billion. 
"Rising interest rates and construction costs have not deterred investment and new supply as the GTA remains undersupplied relative to the demand," said Altus.
But even this star is showing signs of strain. 
Altus said investors are turning to the lower risks and stable returns of industrial real estate, but remain cautious as the availability rate rose to 2.3 per cent from 1.3 per cent the year before.  
About three million square feet of new supply entered the GTA market in the second quarter of 2023, but unlike previous quarters a "significant portion" of it was not pre-leased, says the report. 
Nor does Altus see a quick end to Toronto's decline in real estate investment. The slowdown in the first half of 2023 is likely to continue for the rest of the year because of high interest rates and a growing gap between what sellers are asking and what buyers want to pay.
Article content
"Investment transaction activity is expected to remain low in the foreseeable future as investors continue to navigate a new high-interest-rate environment," said the report. 
"Given the current difficulties in the office and some parts of the retail market, industrial and residential real estate will continue to be favoured asset classes in the GTA market."
__________________________________________________
Was this newsletter forwarded to you? Sign up here to get it delivered to your inbox.
_____________________________________________________________________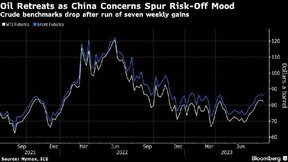 Oil's seven-week rally lost steam this week after fresh worries over China's economy trumped supply concerns. OPEC+ supply curbs and better than expected demand helped fuel crude's longest stretch of gains in a year and pushed prices up 25 per cent over the lows in June.

Today's Data: Canada Consumer Price Index, Manufacturing Sales & Orders, Existing Home Sales, U.S. Retail Sales, U.S. Trade Price Indices, Empire State Manufacturing Survey, U.S. Business Inventories
Earnings: Home Depot
Article content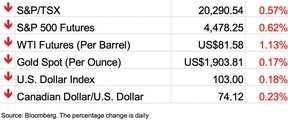 _______________________________________________________



Those in political power along with equity market participants seem to think the war on inflation has already been won, but investing pro Martin Pelletier says it may be too soon to declare victory.
Betting one's portfolio on an outright win over rising prices in the near term could be a dangerous proposition, so Pelletier offers ways to take out a bit of insurance in the event that the war on inflation drags on longer than many expect.
Downtown office vacancy rates showing signs of improvement

Remote work to wipe out $800 billion from office values
____________________________________________________
Today's Posthaste was written by Pamela Heaven, @pamheaven, with additional reporting from The Canadian Press, Thomson Reuters and Bloomberg.
Have a story idea, pitch, embargoed report, or a suggestion for this newsletter? Email us at [email protected], or hit reply to send us a note.