Main Stage highlights include handyman Bryan Baeumler, interior designer Amanda Lwanga and DIY expert Christina Dennis among many.
Article content
Meet face-to-face with local contractors and design experts plus learn about the latest products and DIY techniques for your next project at the Edmonton Fall Home Show, Oct. 13 to Oct. 15 at the Edmonton Expo Centre.
Article content
With more than 175 exhibitors under one roof, the annual show is the ultimate home-improvement speed dating experience to help you find the best help for your home. There will be inspirational features like Camping Couture where you can learn to glamp in style or Vanity Affairs, showcasing the most outrageous ensuite/closet ideas ever. Styled by Jennifer Hughes of Turquoise Chair, the feature is a flight of design fancy with two sweet ensuite scenarios on display; one masculine, one feminine. Think red leather barber chair and a bar cart, or a velvet sofa and a pink sink.
Article content
Today's ensuites with an adjacent walk-in closet have lots of space in which to play, says Hughes.
"We'll be creating a whole mood. It's not exactly about practicality, but we want to get people thinking about what's possible in their home," she says.
Article content
The Friday to Sunday show includes boutique shopping at the Good Home Haven, the Crafty Pop-up Market and the Vintage Curate Market by Tipsy Palm.
The Main Stage schedule includes inspirational presentations from local design influencers, like Branden Barnes and Stephen Quinn of @thevisionaryhusbands, artist and content creator Bree Tetz, the creative force behind @mylittleblackandwhitehouse, Christina Dennis of @thediymommy and many more.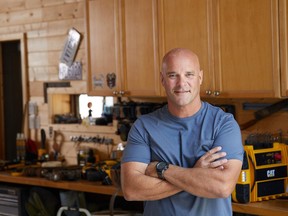 Plus, Canada's favourite handyman and entrepreneur, Bryan Baeumler, returns to talk about his new HGTV Canada show, Bryan's All In. The program is Baeumler's seventh program on the network, in which he travels to remote Canadian locations to help new business owners who are facing significant roadblocks. Each business location featured on the show needs work in either a residential space, such as a communal living area, a bedroom, or a property manager's suite or the related business space such as a reception area, commercial kitchen, or meeting rooms.
Article content
Baeumler shares his expertise with each newbie business owner, passing along everything he learned while filming his previous HGTV program, Island of Bryan, where he renovated a remote island resort.
"In Bryan's All In, we worked on a fishing camp, an off-the-grid cabin, a distillery, a farm with a restaurant and bar, a brewery, a co-operative farm, a maple syrup sugar shack and the oldest bowling alley in Canada in Arnprior, which is a beautiful little town (in Ontario)," he says.
Other shooting locations include Gravenhurst and Haliburton in Ontario, the Muskoka region north of Toronto, Pollard's Point and Random Island in Newfoundland. Filming in the Northwest Territories and British Columbia was delayed due to wildfires.
Article content
The successful show applicants were budding entrepreneurs who had left the big city and started businesses that they really had to idea how to run.
"It was a huge learning curve for these people. We just taught them how to use the local resources, just like we did in Island of Bryan. And helping them light that fire and giving them back that tenacity that entrepreneurs have. And I'm pretty handy. I can help with a few projects," he says with a laugh.
Baeumler always takes time to chat with home show attendees and this year he hopes to connect with people who are considering moving out of the city and revitalizing Canada's small towns that have started to fall off the map.
"That's what powers the economy. It's important to foster that entrepreneurial spirit in Canada," he says.
Article content
Baeumler will appear on the Main Stage on Oct. 13 at 6 p.m. and Oct. 14 at 1 p.m.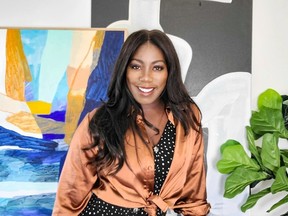 Amanda Lwanga, an environmental engineer turned interior designer with a wicked eye for sustainable design is another Main Stage guest. Her designs are extraordinary and everything she chooses for her clients is sustainably sourced.
"In building, everyone talks about solar panels and energy use or water consumption, which is all good, but no one is talking about how products are manufactured. How long does it take for a stone to be mined, blasted, polished and shipped from Brazil," says Lwanga, who founded her Linger Design Studio five years ago. "We help clients make the best decisions from a wholistic standpoint."
Her goal is to help everyone understand how to better source materials while achieving their design esthetic, whether it's modern, traditional, industrial or vintage. Lwanga will speak Oct. 13 at 5 p.m., Oct. 14. at 5 p.m. and Oct. 15 at noon.
Other show times plus a list of features and exhibitors are posted on the website at edmontonfallhomeshow.com.
THE DETAILS
WHAT: The 2023 Edmonton Fall Home Show.
WHEN: Friday, Oct. 13 to Sunday, Oct. 15.
WHERE: Edmonton Expo Centre.
HOURS: Oct. 13 from noon to 9 p.m., Oct. 14 from 10 a.m. to 9 p.m., Oct. 15 from 10 a.m. to 6 p.m.
TICKETS: $12 full day/$6 half day for ages 13-plus; $10 for ages 60-plus; free for children 12 and under. Save $2 per ticket by purchasing online.
INFORMATION: edmontonfallhomeshow.com