Our editors learn something new each time we head to markets and design shows. We'll often see a color, material, artisanal technique, or type of furniture in a new light—and we cannot get it out of our minds. We are subsequently filled with inspiration that informs the pages of our magazine and website for months to come.
High Point, Field+Supply, London Design Festival, New York Tabletop Show and others allow the VERANDA team to get a close-up preview of the trends to come—and this year our style and market team is revealing what we believe will be the biggest design trends for 2024.
The Biggest Interior Design Trends for 2024
Unique Materials

"Market always showcases new and interesting materials, but this time, materials were front and center in a big way," VERANDA's Style Director Rachael Burrow shares. At High Point Furniture Market this fall, our editors were met with compelling pieces with construction that goes far beyond traditional wood and upholstered furniture.
More From Veranda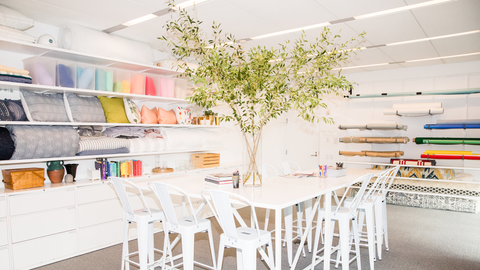 "Between interesting stones, like the selenite-covered nightstand at Bernhardt, to the lighting that the Arteriors team created out of eggshell, creative materials speak to the movement of thinking outside the box when it comes to sourcing, the end product, and the story behind each design," Burrow reveals.
For 2024, people are on the search for unique items that will help their space stand out, and nothing quite makes that statement like the addition of unique materials. As Burrow shares, these creations can come in all types of variations from a lamp base to a stand-alone piece of furniture.
Elevated Outdoor Furniture
When you think of outdoor furniture, your mind might go to that matchy-matchy patio set on your parent's deck. If that's the case, you probably haven't seen the latest outdoor furnishings, which Burrow says are getting closer and closer to looking like interior pieces. "In some cases, it's hard to tell what's indoor and what's meant for outdoor," she shares.
Burrow says, "The Carrier & Company Outdoor for Century and the new Susan Hable collection for Hickory Chair all demonstrated that you do not need to buy just a set of outdoor furniture anymore. There's power and visual interest in treating your outdoor rooms like just that—a room."
Make the most of your newfound design inspo and bring your favorite elements of the indoors out (think: chic throw pillows, a soft blanket and beautiful lighting).
Soft Curves
Sometimes the trends we see at market are an amalgamation of the bold design choices of the past. In this instance, soft curves act as a happy medium between straight lines and over-rounded compositions. Think "more shapely and feminine curves," Burrow explains.
Oversized and Artisan-Made Ceramic Lighting
A common thread our editors have seen is an interest in showing a human touch in our spaces. We no longer gravitate towards clean-cut perfection; natural beauty is the real eye candy. Our world better understands the value of our home as a place of solace, and the addition of one-of-a-kind touches feels like a natural progression for any space. Ceramic lamps lend themselves to the maker-focused aesthetic that we crave.
"Handmade bases done in oversized forms pack the punch visually," Burrow shares. We are in awe of the stunning, larger ceramic lamps we've witnessed at market and beyond.
Cork
Cork has long been a staple in the composition of our homes, but this year, we believe it deserves more extensive recognition. Cork is "such a strong and interesting material for the home," Burrow shares. "We were seeing this everywhere—in fabric and in wallcoverings. Again, [we're seeing] a constant return to natural materials that nod to nature in the home."
All in all, the trends that our style team forecasts for 2024 are uniquely intertwined with the need for individuality and personality when it comes to the spaces in which we live.
"I think these all allude to the handmade nature that people are craving more in their homes—in lighting and cork and unique materials," Burrow explains. "People are being more thoughtful about what they source and where it comes from and who makes it." Now those are trends we can certainly get behind.
Assistant Market Editor
Mary Alice Russell (she/her) is the assistant market editor for VERANDA. She composes gift guides and stories about style, design, decor, shopping, markets, and trends. Currently attempting to master the art of needlepoint, Mary Alice loves creating, baking and discovering hidden treasures like sea glass or the perfect chai latte.